YOU PROBABLY DON'T NEED MORE MARKETING BUDGET. BUT BETTER PROCESSES, CAPABILITIES, AND STRUCTURE.
I CAN HELP.
FAST-TRACK MARKETING PERFORMANCE THROUGH PEOPLE AND PROCESSES.
FIND OUT HOW!
YOU NEED AN INTERIM MARKETING MANAGER? FAST, FLEXIBLE, AND REALLY EXPERIENCED?
GET IN TOUCH!

— Interim brand & marketing management
— Strategic brand & marketing projects
— Marketing process design and facilitation
— Marketing training and capabilities building
---
"Switchmode helped put a great deal of focus, structure, and strategy to our central marketing organization which helped the organization work in a systematic manner saving time and endless debate. I would highly recommend to work with Switchmode again".
— Suzanne McKenna
Global Head of Triumph brand
MARKETING EXCELLENCE AND PERFORMANCE
Switchmode Consulting helps companies improve and strengthen their marketing practice. I work hands-on with senior brand and marketing leaders to build sustainable marketing performance that increases marketing's contribution to the business. Marketing may encompass all aspects of brand and marketing management incl digital.
FAST-TRACK IMPROVEMENTS WITH SUSTAINED EFFECT
Do you wish to improve marketing performance and want sustained effect? Do you need support to get critical brand and marketing projects carried out? Switchmode is your marketing detective, doctor, and SWAT team all in one. Read more in Services.
ACHIEVE MARKETING HIGH-PERFORMANCE
I believe in improving marketing performance with long-lasting effect. Based on 16 years of corporate experience from Levi's, Lego, Telenor, and Sony and clients like Triumph, I have developed an integrated, trademarked framework to building marketing high-performance. Read more about the Switchmodel® in Method.
INTERIM SERVICES
More and more, marketing leaders and CEOs need an extra marketing resource for a shorter period of time. But where do you find one with enough experience to hit the ground running? Well, look no further. Fast, flexible and experienced, I can fill that gap in your organization as interim marketing director. Get in touch and let me help you.
RECRUITMENT
Are you looking for your next marketing specialist or manager? With deep understanding of the marketing function and its place in organizations, I can help you find the right match for your team. I'll manage the proces for you incl. job description, network search, screening of CV's, interviews, recommendation, onboarding, and any liaison with your HR partner. The right person in the right role can make all the difference so don't hesitate to contact me.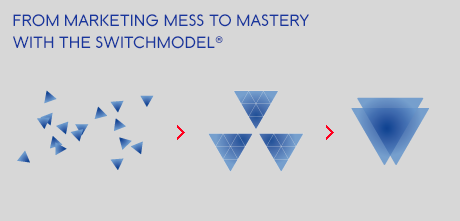 Read more about building a high-performance marketing practice and the benefits to the business.
Or get in touch if you would like to hear more or discuss a specific issue or project.
Cases
---

When I was hired as marketing director for Telenor Denmark, the assignment was clear: "Make the marketing more digital and launch the Telenor brand".

"We have to do more for less". I had just been promoted to head of digital for the Levi's® brand in Europe and was participating in the annual strategy seminar at the European headquarters in Brussels, Belgium.
THE SWITCHMODE NAME
---
Switchmode takes its name from the switch-mode power supply. This is a type of power supply that achieves more effective electrical output by optimizing the input, thus minimizing wasted energy. In the same way, Switchmode works with senior leaders to transform their marketing function and approach to be more effective.