News
Surviving as a retailer post-pandemic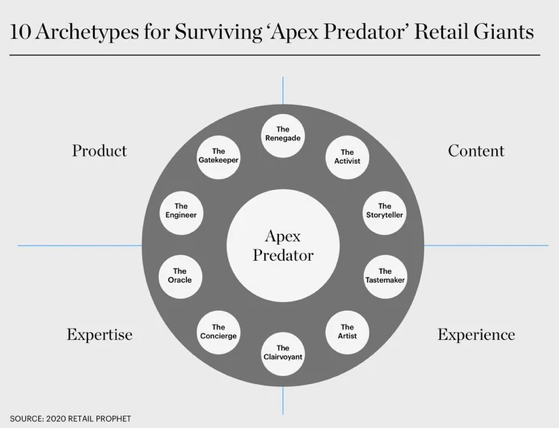 Behemoths will pervade our everyday lives!
The other day one of my former colleague at Levi's® posted a clip on LinkedIn with retail expert Doug Stephens. In the clip, Doug Stephens gives us insights to the changing retail landscape, a change that has already begun.Mega players like Amazon and JD, he says, will expand vastly beyond current categories and business models into healthcare, financial services, even education.
What exactly do YOU offer that they don't?
Their dominance and presence will be so pervasive, that the need to carve out a clear position will be a matter of survival for all other retailers, whether you're an e-commerce or a brick & mortar operation. Not choice or marketing ploy but actual existence.
He lays out what he sees as the 10 distinct retail archetypes that offer "a valuable and ownable market position" and fall into 1 of 4 categories. Ref. the model above.
The store is the medium, the medium is the store
On top of that, he adds, retailers must make their products shoppable, purchasable and shippable at all touchpoints all the time. Not just at the store or website, but really serve customers through every media touchpoint, and effectively weave store and media together in a frictionless and memorable experience.
Watch the clip here, it's 20 mins well spent: https://lnkd.in/e7D7A3M
Read Doug Stephen's full article here: https://www.businessoffashion.com/opinions/retail/future-of-retail-doug-stephens-amazon-alibaba-walmart-jd-com